Working with Steak 'n Shake's Design and Construction team, we created an in-restaurant customer journey incorporating 80-years of brand and product storytelling into the interior design. 
By juxtaposing iconic restaurant photographs from the 50's next to newer ones, we communicated to guests the brand's long-standing commitment to quality and customer service. 
By strategically placing video monitors along the customer journey, we were able to transport the appropriate message at the appropriate time and place.
To illustrate Steak 'n Shake's original practice of grinding real steak parts into burgers in front of customers, we produced videos showcasing the high-quality beef that goes into Steak 'n Shake's steakburgers. 
Store front messages: brand history, premium burgers and shake product imagery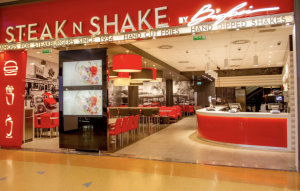 Pre-dinning messaging: at the point of purchase we produced video content that featured made-to-order, high quality fresh ingredients and product beauty shots.
In-dinning message: Brand iconic heritage, customer loyalty program and social media activation